Navigating the world of CBD Pet Medicine can be overwhelming; from oils to tinctures, to treats, these are the ones you should check out.
CBD (cannabidiol) is a non-psychoactive cannabinoid found in the cannabis plant. Most CBD medication for dogs is made from the hemp variety of cannabis and turned into a CBD extract that contains no THC. High doses of THC can be toxic to dogs and is not currently recommended by veterinarians.
CBD is the hot medicine du jour as it treats a variety of conditions: anxiety, arthritis, chronic pain, inflammation, autoimmune disorders, cancer, aches and pains of SENIOR LIFE, and seizures. This is true for humans and dogs. It can be purchased as an oil, an edible treat, a cream, or a tincture (medicine dissolved into alcohol).
Veterinarians, however, have mixed feelings about prescribing CBD as there is little peer-reviewed research available that studies its long-term effects within the canine body. This is largely due to a constantly shifting classification (most recently as a Schedule I substance of "no medicinal value") and murky legality.  Even in states where cannabis is legal, vets can be held liable for harming a dog through CBD prescription. This is something human physicians are protected against.
As a result, the current CBD market for pets is very unregulated. People are giving their dogs their own CBD meds, often with positive results, but this is not recommended. There are a few good pet-centric products on the market that have been positively reviewed by paw-rents. RAVE REVIEW compiled the top categories earlier this year:
MOST AFFORDABLE: PET HEALTH CBD
$49.95 for 30 capsules of DAILY WELLNESS by Pet Health CBD, California, USA.
The company also makes CBD tinctures for dogs with separation anxiety and tinctures/creams for aching muscles and joints. Their products are full spectrum, meaning all of the healing components of cannabis are still present (other cannabinoids, terpenes, and flavonoids).
HIGHEST QUALITY: 4 CORNERS CANNABIS – PEDIGREE CBD OIL
From the 4-Corner's SITE: "Grades of CBD dominant oil's effectiveness varies 100 fold according to medical studies. While our human grade products are of 100X quality, the vast majority of CBD is either 1X or 5X quality."
The quality of your pet's CBD medicine will be affected by the extraction methods of the producer, as well as which parts of the plant have been used. The company, 4-Corners, uses a hemp strain that has not be been genetically altered for fibers (for manufacturing cloth, rope, canvas, and other hemp-based products). It actually looks, smells, and tastes like high THC cannabis, but it is not. They use an extraction process called, "Complete Spectrum Extractions" to preserve those parts of the plant that contribute to the ENTOURAGE EFFECT. This is what makes a high-quality medicine.
What's nice about this company is that they grow their own product, so there is quality control right from seed to market.
FOCUS ON SENIOR DOGS: HONEST PAWS
Honest Paws uses a CO2 extraction process to separate the CBD from the rest of the hemp plant. The company offers treats, tinctures, and an applicator pen that can be rubbed on your dog's ears to be absorbed into the bloodstream. The latter is a great option for elder pets that are not chewing food well and for dogs that are just really stubborn about medicine refusal.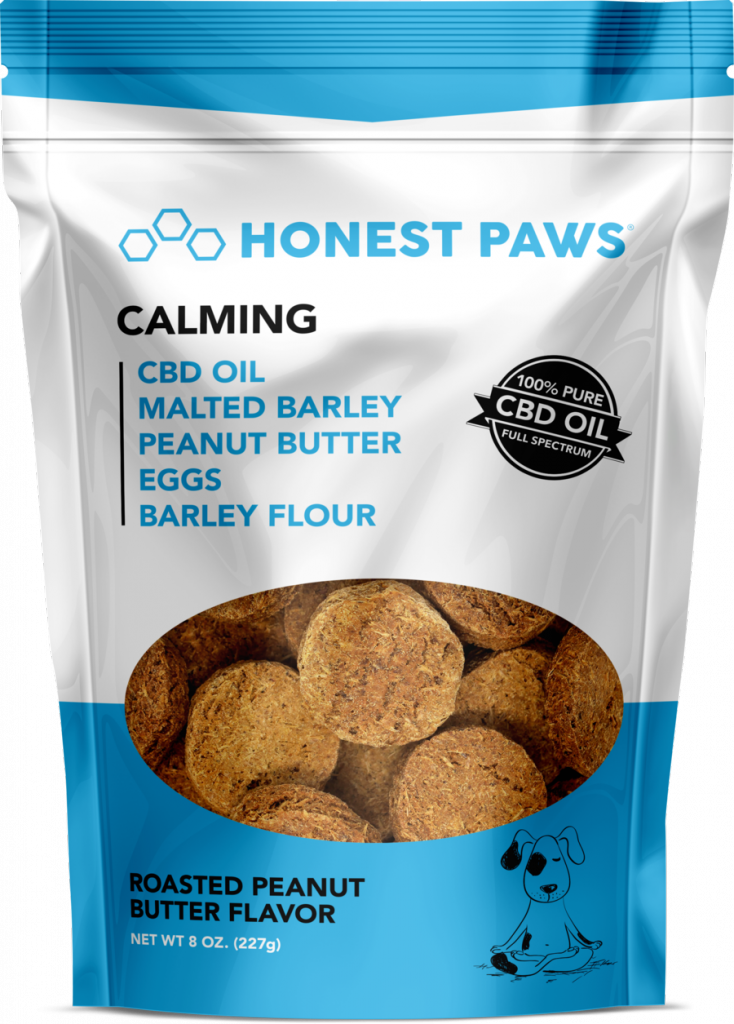 In the end, it's important that you do your own research. Look into the extraction methods of the company, their source of cannabis, and consider the dispensing method that is most appropriate for your dog.
Don't assume that natural means "better" or "safer." Medicine needs to be properly dosed and monitored, which makes going rogue and figuring it out for yourself potentially dangerous to your pet. Some dangerous symptoms to watch out for include: increased tremors (high CBD doses can cause increased tremors instead of decreased), reduced blood pressure, dry mouth, and drowsiness/lethargy. If your dog is experiencing any of these symptoms, it may be that the dose of CBD is too high or that this is the wrong medication for his condition. Please, always defer to the wisdom and learning of your vet.
Finally, here is a video of Rocky getting his daily treatment of CBD oil – 2 drops, directly into his mouth. The results are astounding! Talk to your vet, learn as much as you can, and then dive into helping your best buddy live his best life possible!
BY JENNIFER GRANT, Get Leashed Magazine