Special thanks to Taylor Jackson Buchanan of Community Impact for the sweet article about Stay N Play Pet Ranch and the veterinary practice joining their property. We appreciate it!
---
Stay N Play Pet Ranch offers specialized boarding and pet care in Dripping Springs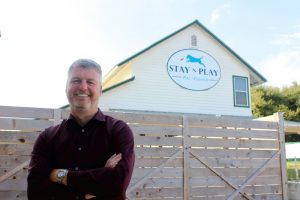 Stay N Play Pet Ranch has established a reputation as a safe pet care facility over the past two decades, owner Paul Kennedy said.
The pet boarding, grooming and day care business specializes in caring for pets with special needs—those that are deaf, blind, seizure-prone, missing limbs, experiencing heart conditions or in need of regular medication.
"The individualized play that dogs receive sets us apart from most boarding facilities," Kennedy said. "It's a safer environment for pets. They still get the same interaction with other pets but with the safety and security of a fence between play yards."
The 6-acre site located on Hwy. 290 offers boarding services, grooming and day care options. Kennedy said they most often care for dogs and cats, followed by birds, rabbits, ferrets and other small mammals.
Most of their clients live in Dripping Springs or Southwest Austin, he said.
"Our exposure—being on Hwy. 290—leads us to getting a lot of people that come in or call who are new to the area," he said.
Kennedy bought Stay N Play Pet Ranch five years ago. His vision for the 20-year-old facility is to build on the legacy he inherited.
"I liked what the previous owners were doing here, and we really haven't changed anything," he said. "We still work off the same policies and procedures."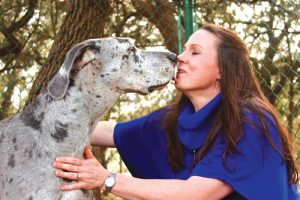 Future plans for the facility include leasing an adjacent building on the property to veterinarian Amanda Moore. She plans to open Lone Star Animal Hospital in the space by the end of February.
"It's unique to have such a well-established boarding and grooming facility right next to a veterinary hospital," Moore said. "It will be very easy for clients to get what they need done in the same place."
Lone Star Animal Hospital will offer preventative care, internal medicine, surgery, dermatology, dentistry and emergency care. One of the more unique services Moore will provide is pet acupuncture to relieve orthopedic issues and help with pain management, she said.
"I'm so excited to have a really good neighbor and partner," Moore said. "I think we can help a lot of pets and be a convenience to the community."
Stay N Play Pet Ranch
2500 Hwy. 290, Dripping Springs
512-894-7387
www.staynplaypetranch.com
Hours: Mon.-Fri. 7:30 a.m.-
5 p.m., Sat. 8:30 a.m.-3 p.m., Sun. 2-5 p.m.
---
By Taylor Jackson Buchanan   |  6:16 am Jan.