As any pet owner knows, decorating your house at Christmas can be a testing time due to the antics of your beloved furry friends.
Want to leave advent calendars within reaching distance of the kids? Think again. Want to throw fairy lights around the room in a spontaneous fashion? Unless you want your pet to be wrapped around them in seconds, forget it.
And what about decorating your Christmas tree in a beautiful, well-thought-out fashion? Well, that's just laughable.
Unless… someone was to create a tree which exceeded the reach of our mischievous pets and therefore we could decorate it in any way we wanted.
Which is exactly what's happened as Argos (based in the UK) are selling a half Christmas tree for that sole purpose, meaning your pesky pets won't be able to get their paws on the goods.
The tree is six foot tall, however it is only a half parasol so the branches only start halfway up. It's therefore the perfect solution to your pet troubles as there's only half as much tree for your cat or dog to get their mitts on.
The product description reads:
"Keep your perfectly placed baubles, bows and bells out of reach of curious, crawling kids or your cats' playful paws with this 6ft parasol tree.
If Santa's been extra generous, there's plenty of room to stack pressies underneath rather than scattering them around it. It's also a great alternative to the traditional tree if you're a tad tight for space."
The artificial tree is made from PVC and can be easily built once it's in your house. It's also fire retardant and is currently on sale at Argos for £33.33 – meaning you save a third as it's down from £50.
If you want to branch out (pun intended) and go for something even more Christmassy, there's a snow-covered alternative available for £37.50.
Although I don't have cats and the website specifically states the tree is purpose-built so that cats can't get their claws on it, I can still sympathize.
That's because I have a dog who absolutely hates any form of change, meaning Christmas is an all-round disaster every year.
The extra visitors, the decorations and the sudden appearance of a six foot Christmas tree prove too much for him to handle year after year.
Which means every time it does make an appearance, he barks non-stop at it for a good ten minutes as though that's going to make any difference. Spoiler: it doesn't.
One year, he settled down after a couple of minutes and I thought a Christmas miracle had happened. That was, until he jumped onto the couch and proceeded to start eating the tree.
See below for exhibit A: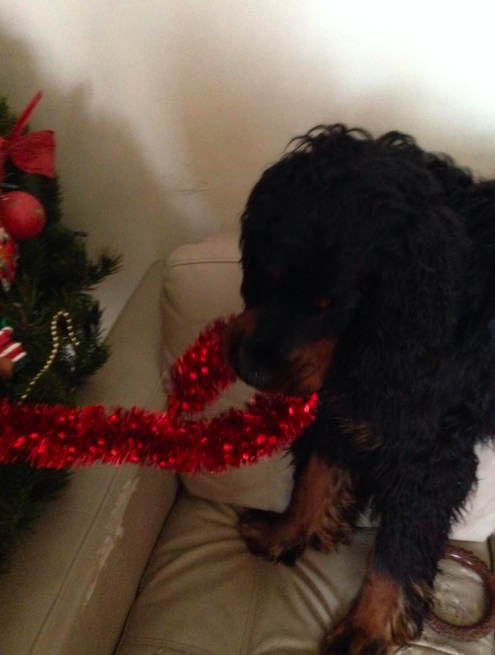 So I could probably do with one of these trees myself, although knowing my dog he would just see it as a challenge and complete an Olympic-standard jump to the top of the tree anyway.
Oh well, a girl can dream right?
For any of you who have a troublesome pet and think this could be the perfect solution, you can buy the tree here.
Treat yo'self.
If you have a story you want to tell, send it to stories@unilad.co.uk.
Source:
BY : LUCY CONNOLLY, Unilad